"L.A. is one of those places where you can walk into a venue and see the craziest shit you've ever seen," says Sam Martin. Sam's a founding member of Youngblood Hawke, that band on international heavy rotation for their single "We Come Running." "Everybody there's trying to make it," he tells me about his band's adopted hometown, "and it's fun. It's really cool."
But L.A.'s not only where musicians go to make it, it's where they go once they've made it, to record, to play to sell-out crowds—and if they check those boxes—to accept the greatest accolade a musician can win: a GRAMMY. That's Los Angeles.
Let's start smack-dab in the centre of it all.
Downtown L.A. is where you'll find the Nokia Theatre and the Staples Centre. If you're catching a big show at one of these arenas, stop by the Mixing Room (lobby level of the JW Marriott, L.A. LIVE) for a pre-show cocktail and bar-bite. Definitely try the ribs: soft, juicy and doused in a delicious chocolate molé; and grab an order of the crispy artichoke hearts while you're at it: lightly battered with a lemon aioli dip that must be illegal somewhere. Pair those with pretty much any drink. The barrel-aged Manhattan goes for the win; but stay clear of the Yerba Buena 'cuz I swear the tequila is conspiring with the drink's muddled jalapeno to ruin your asophagus.
Unwind at the chic (yet, affordable) boutique hotel The Farmer's Daughter. It's a bit of farm charm in the city, harvesting a cool youthful vibe that we're totally down with. Enjoy homemade cookies and lemonade in the lobby (they're hard to avoid with staff encouraging guests to indulge at ever opportunity), take a dip in the courtyard pool (don't mind the resident flock of GIANT rubber duckies), or grab a cruiser bike for the morning (they're complimentary—now that's a c-word we like) and pedal your way over to Hollywood.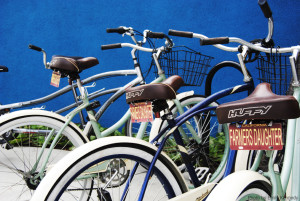 You'll know you've arrived as soon as you can spot the iconic rotund Capitol Studios—What, did you think we were gonna' say "The Hollywood sign?"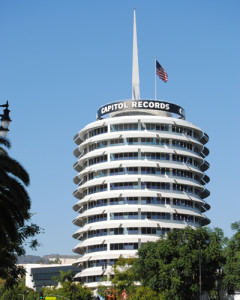 Grab a coffee and the most perfect parfait at Groundwork coffeehouse (1501 N. Cahuenga Blvd. at Sunset).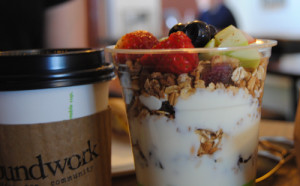 Hit up Amoeba just down the street for a selection of CDs and vinyl like nowhere else. If you're really organized, check their website beforehand for any free concerts going on in-store (if not, you can rock out another day via the store's live feed).
There's also a healthy number of vintage stores in the area. Definitely check out Iguana Vintage Clothing (6320 Hollywood Blvd.), American Vintage (6529 Hollywood Blvd.), or help support awareness and testing for HIV/AIDS by browsing the racks at Out Of The Closet (6210 W Sunset Blvd.).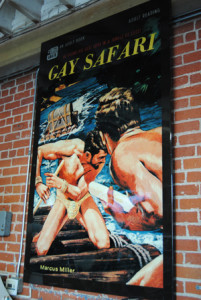 When you're out of Out Of The Closet, notice the stand alone art deco building across the street –that's The Hollywood Palladium—a historic venue in the art deco style of the '70s, catering to big name bands; but, with it's older (read: smaller) design, it tends to sell out at lightening speed.
You'll have better chances seeing bands on the rise in the community of Silverlake.
The Satellite does a residency where bands can play a string of nights, with a proven record of helping groups gain a following (and get noticed). Youngblood Hawke is one:
"Satellite is one of our favourite venues," says Sam. "That was some of our very first shows. We got invited to play. It's cool, where you play, and if things are going well, then the next night more people come, the following night more people, and that happened. By the end of it, it was sold out. LA is such a tight-knit music scene so it's a really good way to make new fans."
Keeping its summer temperatures into October, LA makes a great fall destination to extend your summer. Cue up your travel plans in time to see the bands you worship in the city of angels.
Stay here: Farmer's Daughter
Eat here: The Mixing Room, Groundwork Coffee
Party here: The Satellite