"I want to go to France" I said. After a particularly cruel winter, followed by an uneventful summer, I decided to go somewhere I've always wanted to see. The romanticism of Paris, the wines of Burgundy, the culinary delights of Lyon, all made a trip to France irresistible. And to speak the local language, in my case thanks to a French Acadian mother, is an advantage that would allow me to feel really immersed in the culture.
October it was, after the end of the tourist season. My goal: experience the culture, eat great food, drink fantastic wines and recharge my battery. Of course, I couldn't go halfway around the world and not seek out some musical experiences as well.
My trip started in Paris. As with all cities rich in history and beautiful architecture, it is best to walk around. From my Airbnb apartment I walked to the gorgeous Gardens of Luxembourg. If ever I saw
music in stone, it was staring at Medici's marvel.
From there I made my way to the Musée de l'Armée, took in the magnificence of Les Invalides, and walked up the iconic Eiffel Tower. Then it was up to the top of the Arc de Triomphe at dusk, for a fantastic view of the Eiffel Tower lit up.
After a long day's walk, I decided to stop in a local jazz club. The bar was called Le Baiser Salé, and hosted an open jam every Monday.
The house band started to a full room of music lovers. They played a set on their own and you could see the audience grooving with a dozen or so musicians licking their chops for a chance to show what they could do. The band leader/percussionist did the roll call to see how many musicianswere in the room and what instruments would be represented. I was the lone piano player in the house that night.
First up was a harp player from New York City, and he killed it! The bar was set high, right off the top. He was followed by a very good tenor sax player from Germany, and then a groovy guitarist from Paris. Next up was me. I called out "Use Me Up" by Bill Withers and sang my heart out. This is my "go-to" tune if I jump on stage with musicians I've never played with before.  It's only two chords, back and forth, with a simple stop for the bridge that everyone instinctively can latch on to. Simple is best in an open jam, and gives everyone steady ground to show what they can do.
What's more appreciated than chops, though, is groove.
Groove is where it's at, and if you lay it down right to start of the tune, everyone has a good time. We had a lot of fun, stretching it out, with some of the jammers joining in for solo passes. After that tune, I was invited to sit in with them for the rest of the show. Throughout the course of the evening several countries were represented. The crowd was generous and kind, with a few appreciative (and appreciated) drinks sent my way.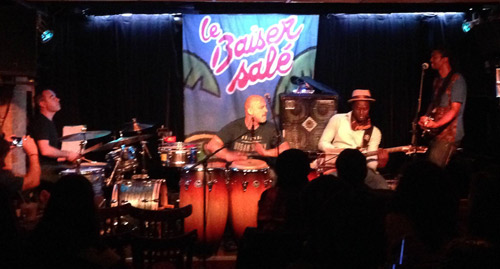 Oddly, live music was relatively hard to find. If I asked a local where to see live music, more often than not they had no idea where to find it. On the other hand, pianos were often available.
The train stations had pianos for anyone to play. I played one in Paris and in Bordeaux, and each time there'd be a dozen or so people who would stop for a moment to listen.
I found charming and hospitable people everywhere I went, but the guys I stayed with in Dijon were my favourites.
They told me about a local spot with an open jam a few times a week. After spending the day sampling incredible Pinot Noir and Chardonnay at a couple vineyards, I stopped in to check out the local scene. A collection of talented folks were taking turns at an acoustic guitar with an electric full-band jam to follow. I asked the host if I could sing a song with the acoustic and he was happy to have me. I picked up the guitar and jammed out a Gavin Degraw tune. Before I had hit the chorus I noticed cameras taking video and pictures–apparently they liked me. I sang three encores to a room full of very joyful and enthusiastic patrons. When I finally left the stage, I was greeted with drink offers and asked to take pictures with some very pretty French girls. This was a good night!
The next night my hosts told me about a hole-in-the-wall pub with an upright piano open for people to play. After a delicious meal in which I sampled Escargot for the very first time (and enjoyed it), I ventured to this little club. Sure enough there was a piano right near the bar. I sat and had a glass of wine while chatting with the bartender, and was soon joined by my hosts and a few of their friends. After some celebratory drinks and funny stories, I made my way to the piano and sang a few tunes. I managed to rope in a dozen or so people from the street as I sang, and the bartender sent a couple drinks my way in gratitude. This was my kind of evening.
It's been years since I've frequented an open mic in my hometown, back before I had weekly gigs. Strutting my stuff on open stages gave me the experience and confidence to further my musical career and eventually make a living doing what I love. Although, after 14 years of playing professionally, sometimes music can just feel like a job.
But the best nights of my trip were the ones where I got to make melodies. Whenever I'd feel a little lonely, like magic there'd be a piano somewhere. Perhaps, of all things I learned on my travels, the
sheer joy and peace music brings me was the most refreshing and important re-discovery. I fell back in love with music.
Stay here: Airbnb
Smell the roses here: Gardens of Luxembourg
Jam here: Le Baiser Salé