The creation of this publication was inspired by a close friend of mine, Field Corbett, who unfairly was taken from us too soon. Field passed away last year, in January of 2015, after a battle with cancer.
Today would have been Field's 34th birthday. And on this day, I'd like to acknowledge his incredible role in my life, and this publication.
He was always a person who followed his own trajectory—never drawn to the ones society prescribed. His talks of retreating to a cabin in the woods where he could work on his music were defiant, and when these talks became actions, they were triumphant.
Field was a man of many interests. He was a gifted philosopher, curious about all topics the world offered. But one topic was consistent for Field: Music. A singer, songwriter, guitar player, drummer, producer, dancer and more, Field philosophized about music above everything else. Worried I would lose touch with Field as he talked more about a life of seclusion in the woods, I decided the only way to ensure contact was through music. But, not being a musician myself, I lacked any organic musical connection. Field's personality was so unique and his friendship so valuable that I knew I had to develop something that would ensure our relationship lasted a lifetime. As a magazine writer, I decided the only option was to get into music writing. I created a music magazine so that we would always have a common interest.
With Field's help, I launched the DamnMag Kickstarter in 2012. But the courage to finally click that green launch button did not come easily. It was built up through many days and nights brainstorming at Field's apartment, many emails of encouragement, and countless hours worrying this was a crazy idea—but never crazy in Field's eyes. His unwavering encouragement, inexhaustable positivity, and super-human enthusiasm will never be matched, nor forgotten.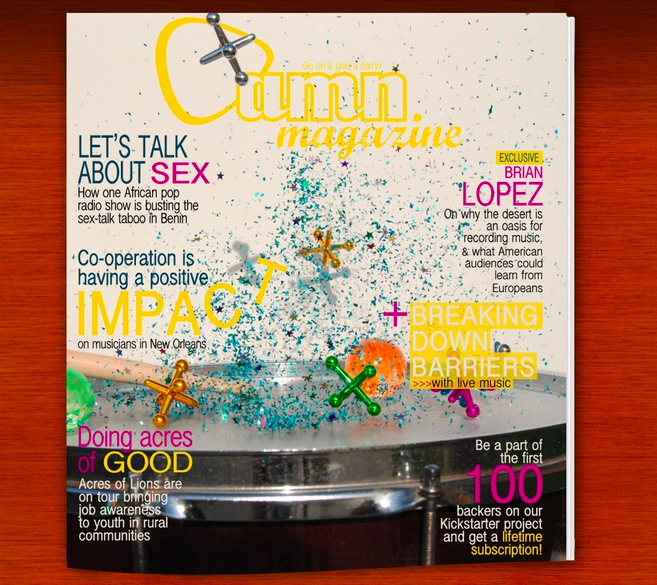 His unique existence seems like an apparition for its rarity. And so, today I remember the most amazing man I ever met. And I hope this publication continues to embody the positive social change he tirelessly encouraged.
Although full of sorrow that this project—meant to ensure a lifetime friendship—outlived the person who inspired it, I'm happy to celebrate his birthday. A day that brought him into some very lucky peoples' lives, even if only for a short time.
Happy birthday Field.
-Emily
Founding Editor, DamnMag