Edmonton's Scenic Route To Alaska have been on a steady climb ever since they hit the scene five years ago. Their latest album Long Walk Home has them touring the world, shifting their sound and growing as people. Members of the band have been playing together for over 12 years now, but the band as it's known now started in a particularly unexpected way.
"We used to play as a band called The Juice, playing weddings and any event or song we wanted," explains guitarist Trevor Mann. "Our lead member Lev couldn't play when we got offered a gig in Saskatchewan, so we did it as a three piece."
This new configuration needed a new name, "We saw the sign leaving Edmonton saying 'Scenic Route to Alaska' and it evoked a lot of imagery and seemed surreal and cool," says Mann. And Scenic Route to Alaska was born.
Years later, the three-piece just released their third LP, Long Walk Home. The record finds the band in a happier place than they've been, and it shows in the tone of their music.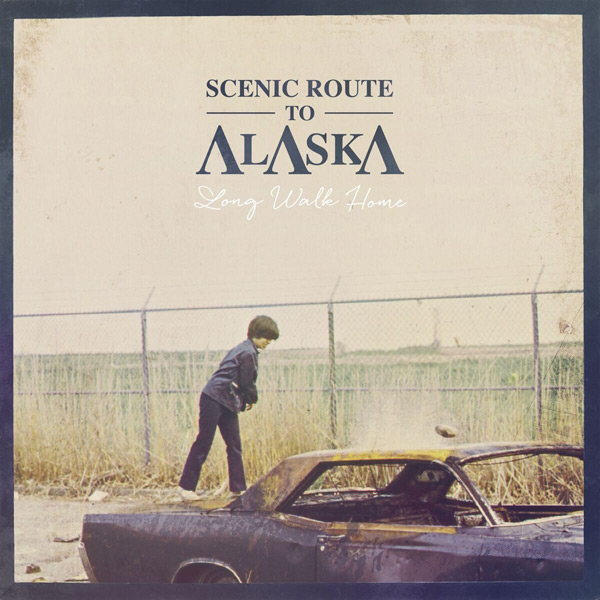 "It's a quarter-life crisis album, about following your heart and dreams, we wanted a youthful vibe," says Mann.
This shift and hard work elevated the band's spirits, giving them a burst of confidence, ultimately resulting in a shift in sound. "We wanted to be more catchy and presentable without selling out or losing ourselves," says Mann.
The other side of this shift came from working with producer Howard Redekopp (Mother Mother, The New Pornographers, Dear Rouge) who brought a lot of ideas to the table when producing the album. "He's a treat to work with," said Mann, "He knows the magic to making the sound thick and full without it sounding like it's just the three of us, he's organized and some bands just aren't."
Their recent of success also got them support from a local brewer as part of the Yellowhead Certified Program, providing musicians packages to help them with marketing and promotions. "He's giving these bands everything and asking nothing, even doing a run of non-branded shirts and kegs for them," says Mann. "It's very cool of them, all we do is play a show a year for them and it's for charity. It's also nice to come home to free growlers."
"It's very cool of them, all we do is play a show a year for them and it's for charity. It's also nice to come home to free growlers."
All this momentum found the band on a tour of Europe this year that was a lot different than what they've experienced this side of the Atlantic. "Nobody knew who we were but the shows were always full, people said 'We didn't want to miss out,'" says Mann. "You usually need a recommendation for a show here, but there, they feel deprived and treat all musicians like gold."
This year is busier than ever for the band, with tours in Europe, Canada, and back to Europe. Mann has no regrets and has actually grown closer to his bandmates, "It's like having brothers on the road, we've found a good balance," he says. "I never had brothers growing up, but it feels like that to me."
After 12 years, and in the midst of a two-month tour between continents, it seems like their album title is becoming a self-fulfilling prophecy, and the band has no plans to slow down. "After this tour we're going to start playing and writing again," says Mann. "We even have an Edmonton show planned for December at a local radio station."
Watch the quirky new video for "Coming Back" below, and catch them on tour, scroll their website for the full tour schedule.