Crafting the best live show possible isn't easy, for many bands the live show is an afterthought, focusing on the album with touring being a means to an end. But some bands don't believe the two are mutually exclusive, and use their live show to road test songs for the best album possible. Moncton's The Motorleague bring their music to the world through amazing live shows and are still hitting strong every night nearly a decade later.
"At some point we said, 'You play the same show for 6 or 600 people, you can't have seven out of ten nights,'" explains singer Don Levandier. "It's 10 or nothing, even if you're not feeling it, after the count of four you're in."
The band's used those 6 to 600 people to test their material night after night when writing their latest album Holding Patterns, using their live shows as a vetting process. "You'll know when a part is too long when the crowd isn't enjoying it, if you can feel the song waning, the crowd probably is as well."
"…it was demanding and pushed us to the limit but we'd do it again in a heartbeat."
The album was a lot more planned than their previous efforts, the band wanted to streamline the process after the expensive and tiring process of travelling to Toronto repeatedly to record their previous album Acknowledge, Acknowledge. "This was a lot more deliberate, we started with 32 songs, then 17 and ended with 11, we're a lot more coherent as a band now and you can hear it."
The album was produced by Eric Ratz (Cancer Bats, Billy Talent, Arkells) which Levandier compared to working with an Olympic hockey coach, who only yells at you because he cares. "We all felt we had to bring everything to the table all the time, it was demanding and pushed us to the limit but we'd do it again in a heartbeat."
Levandier said this resulted in a lot of "f*ck yeah" moments on the album, explaining "Anything where you hear it and think "I need to listen to that again, right now," we want to create that moment everyone is fully invested in."
After nearly a decade, the members are fully invested in the band now too. Through years of touring causing several line-up changes, the band seems to have finally solidified. "It would be daft if we lost someone now, everyone has sacrificed so much, missing births and deaths, but there's a unified idea of what we're doing now."
The band wanted the title of this latest album to reflect this. "It felt like we were in a holding pattern: write, record, tour, repeat, it's all part of the grind."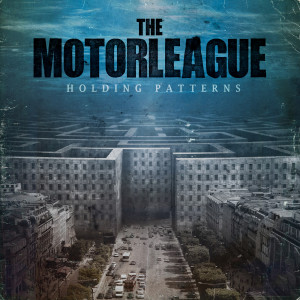 "You can only tour Canada so many times, and with logistics in the winter it can be petrifying," explains Levandier how even with the band's entertaining shows they need to expand their horizons further south, or risk atrophy. "You don't get better staying at home, we're constantly cutting our teeth playing shows every night, it's like level grinding in an RPG."
The band know a thing or two about RPG's (role-playing games) as well, as they released their own videogame Atlantic Canada: The RPG back in 2014. The game pays homage to classic RPG's like Final Fantasy and had the band serve as the main characters while also celebrating bands from Atlantic Canada. They made the game free and it's been downloaded over 40,000 times.
"You have a lot of free time on the road, and you feel like you need to be productive, so I Googled how to make an RPG and we went from there," says Levandier about how the project slowly came about. "It took a year but we were laughing the whole time, it felt like a joke until we realized we'd made a real game."
The band also used proceeds from a three song sampler from Acknowledge, Acknowledge to raise money for cystic fibrosis playing shows for the sampler and selling it to raise money for the cause. At the 2012 East Coast Music Awards the band gave a cheque for $3,300 towards the cause. Levandier says the band was more than happy to help "We loved doing it and it's a close cause for us."
With their intense shows and relentless touring, many other bands would've burned out, but The Motorleague rolls on, and they wouldn't have it any other way. "You either break your back or your band."