A few thousand festival goers nabbed the last of the Coachella Valley Arts and Music Festival tickets last month.
This desert music festival is one of the biggest in the world, with both advance and second-round tickets selling out year after year. But with that title and hype comes a responsibility for Coachella to live up to the expectations of the brand they cultivate and perpetuate. I'm sorry Coachella, but you're just not delivering on the level of a world-class top festival anymore.
With so many festival options, we hope to educate the live-music lover to vote with their dollar, and to encourage Coachella to get off their lazy laurels and just do better.
So, if you're not one of those people with a bracelet, forget it. And if you are, here's what to be aware of, and some reasons to consider demanding better.
Welcome to the Hotel California

If you're able to get a hotel room in California's Coachella Valley, you're pretty lucky, or unlucky because we know from a hotel insider that accommodations crank up the price around Coachella Festival season. But here's the kicker: the bus that shuttles you from the festival to the hotel takes about 40 minutes. This is no one's fault, just that the polo fields where the festival is held are in Indio, which is nearing the end of the line for municipalities in the Coachella Valley. It's a valley, so picture a squiggly line, Indio at one end, Palm Springs at the other, and a few more cities peppered in between. This brings us to another way they are taking your money: hotel parties. Because hotels know you're not going to the festival until the later afternoon, they host daytime parties. But you have to pay for a ticket. Yes, pay for a ticket to a party that keeps you from the festival you paid to attend. *gun emoji* *head emoji* *explosion emoji* *music note emoji*….
Food/Drink

The distance from the hotel to Indio also means you're not gonna' want to go and come back in the same day. So you'll need food and drink. Unlike many other top-notch festivals, you aren't allowed to bring in outside food, so you're gonna' be paying festival prices for grub. You'll also want to find shade, and you'll need water. Lots of it. It's the desert, all jokes aside, don't fuck around here. While we're on the topic of liquids, a Heineken costs the same overpriced amount as a craft beer–despite the alcohol percentage–but again, unlike other big festivals, the grounds are only licensed in certain areas. So if you buy a beer, you're penned in the beer garden until the last drop.
Not a Drop To Drink

You can't bring water in, but you can bring empty water bottles in. Yes, there are free water re-fill station. But not nearly enough for the temperatures as we approach summer months in the Sonora desert. The few there are get overcrowded and become mud-pits. When you need water you may find your oasis is a bathroom—refill at the taps or plan to buy water. If you're feeling up for it, you can also collect empty bottles and bring them into Global Inheritance via their 10 for 1 program–but in our books, collecting 10 empties shouldn't be an answer for 1 bottle of water when you're thirsty.
The Wristband From Hell
So you'll get this package in the mail with a bracelet, shuttle card and an info booklet. Many of us try on the bracelet first. Of course, we're excited! But THIS IS A CHINESE FINGER TRAP OF WRISTBANDS! It tightens and does not loosen. Many other festivals use the same bracelet, with warnings galore, replacement options if you tighten it by accident and have to cut it off, and customer service on social media, phone, email and in person around this problem. But Coachella hides this little fact of a one-way tightening wristband in the pages of the info booklet, and if you fuck with the clasp, and they notice (they're looking) they will take it from you. They took mine (thankfully on the last day), although truth be told, we left early and I would bet the security guy re-sold it…
DON'T TIGHTEN THE WRISTBAND! For goodness sakes, just don't do it. If you tighten it too tight, you're just shit out of luck.
Where's the live music?

You won't find much live music, but lots of EDM. That's not bad if you like DJs/dance music. But if you like musicians playing instruments and singing songs, then it's slim pickings of a six-string. Plus, artists themselves see this EDM takeover negatively, affecting everyone's experience. Last year, musicians like Ryan Adams and Charles Bradley lamented the lack of real music at the festival. On the upside, you'll see big-name musicians walking around with no one the wiser.
Wait for It…
We buy tickets before even knowing the line-up. Why? A love of EDM? Enjoying the Coachella experience with friends no matter who's playing? Fine. But admittedly, it's usually out of fear of missing out. What's all the hype about? Curious creatures we are, we want to know for ourselves. Well, take it from us: The hype is just that. A deception for the sake of selling tickets. Don't buy into it. Wait for the line-up, then decide for yourself.
Why? Well it you've found your reaction to the Coachella lineup going from "Yeah!" to "nah," it may not be a surprise. Let's think about this from a corporate P.O.V.: Why put energy and resources into securing a killer lineup if the majority of passes are sold out before you even announce the acts? A legacy act coming back together shouldn't be the only thing turning heads at a lineup announcement the size of Coachella's. Especially when you dig a little deeper into where you could see the same acts, and others, for cheaper…
Let the Artists Tour to You
According to a Neilsen Report, festival goers travel on average 903 miles to attend a festival. That's almost a full day in a car, no bathroom breaks.
Why travel so far when many of the bands will travel to you?
Here's a Venn diagram we made comparing last year's line-up options from two other festivals across a huge geographic triangle:
Austin City Limits (Austin, TX) vs. Coachella (Indio, CA)

In Common:
Alabama Shakes
Brand New
Drake
Father John Misty
Flosstradamus
George Ezra
Glass Animals
Hozier
Nero
Royal Blood
Ruen Brothers
Ryn Weaver
Sturgill Simpson
Sylvan Esso
Tame Impala
The Weeknd
Vance Joy
alt-J
Bluesfest (Ottawa, ON) vs. Coachella (Indio, CA)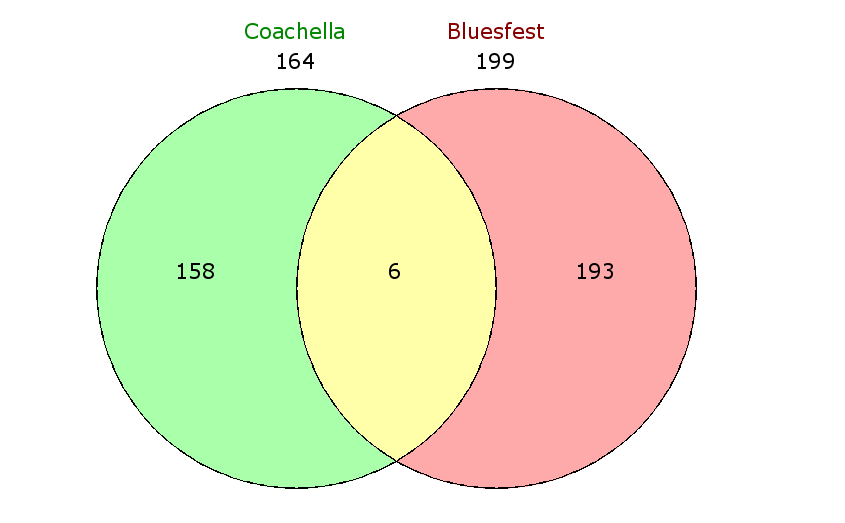 In Common:
Charles Bradley
Interpol
Kiesza
Milky Chance
Porter Robinson
Tycho
And here's a little three-way cost comparison for you: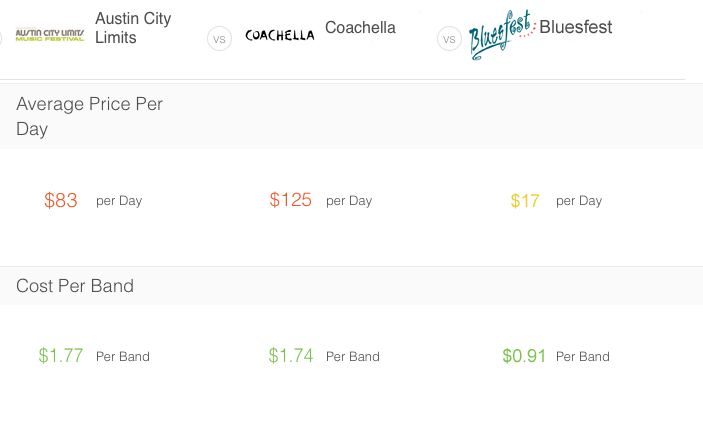 Coachella isn't all bad, of course. For one, they've re-ignited a youthful tourism industry missing in the Valley since the mid-century. Plus, they are involved with some charity organizations, notably Global Inheritance. But this high-price should demand a better commitment to the customer and the community.
So, if you're keen to go to the Coachella Valley anyway, just be aware that Coachella may not live up to the hype it enjoys. Or, you can try these live music options instead.
—
*A limited number of passes are held back for Coachella Valley residents at GA prices, but these are only available in-person, about two weeks before the festival. With the median age of Indio city residents being 27, and almost a quarter living below the poverty line, DamnMag just can't endorse a backyard takeover with such little respect to a community that could otherwise be enjoying this local event.